Most kneeling chairs often follow a very similar design. The set is more angled forward to push your body to obtain an upright position. So compared to an office chair, you will be more prompted to keep a straight back. While this may not be the most proper sitting posture, let alone the comfiest, it does have some advantages.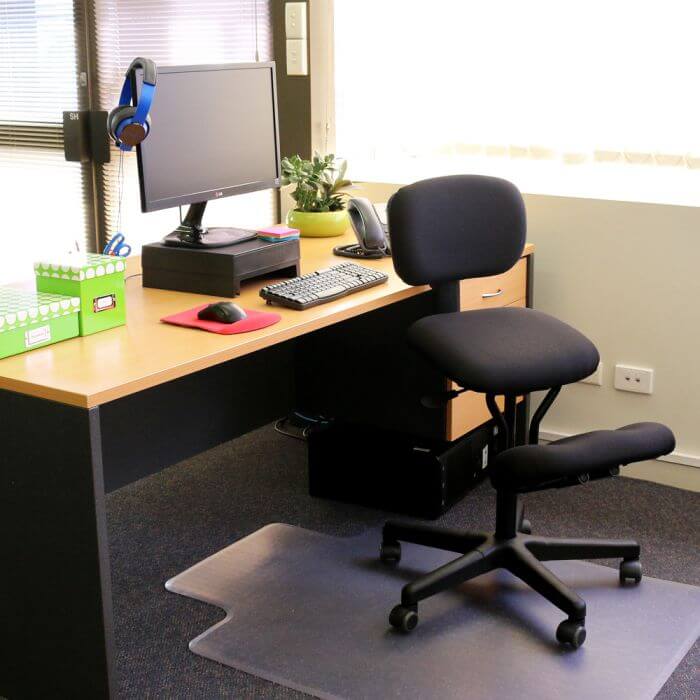 But of course, as we have mentioned in our previous articles, it must be used in conjunction with a traditional office chair. Otherwise, you will not feel your legs anymore by the end of the day.
Interestingly, the Qdos veers away from the usual design and look of a kneeling chair. We had our initial thoughts and assumptions upon seeing the chair up close. And we were able to verify them once we tried the chair. So let's reveal them. But let's first take a look at the specifications of this unit.
| | |
| --- | --- |
| Dimensions | Qdos Kneeling Chair |
| Material | Fabric |
| Load capacity | 110 kg |
| Seat width | 17" |
| Seat depth  | 13" |
| Seat height  adjustment range | 18-23" |
| Backrest dimensions | 16 in x 11 in |
| Adjustable backrest | Yes |
| Ergonomic swivel | Yes |
| Adjustable knee rest | No |
| Memory Foam seat and knee pads | Yes |
The base is very similar to that of traditional office chairs
One of the factors that make the Qdos different from its contemporaries is its base. The base consists of 5 caster wheels, the very similar ones that you can find in ergonomic office chairs. Though the wheels will make the chair mobile, it did raise some concerns.
Let's look at some of the designs of the more popular kneeling chairs in the market. Most kneeling chairs will have four wheels and will not be configured in a similar way as an office chair, though there are also a few that look the same as Qdos.
The Flash Furniture mobile kneeling chair has 4 caster wheels, two sets of wheels are located at the back, and in the front part, the knee pads are located. And this design did seem more stable and can hold the weight of the user according to the specifications of the chair.
Same with the Varier Balans and the Dragonn, they have this traditional kneeling chair base design. 
For the exceptions, the Jazzy has a similar base to that of the Qdos. But instead of 5 caster wheels, it only has 4. And it also has a backrest. Though you will be able to remove it should you wish to use it in a more organic manner. Whereas, the backrest of the Qdos seems fixed.
While we're all for setting oneself above the rest in terms of design and function, we did find the traditional base configuration more stable and secure compared to what the Qdos have. The traditional structure seems not to do more for a kneeling chair.
It has a backrest, but we'd rather use one without
The Qdos is equipped with a backrest that you can push back a bit, so it is quite adjustable. Thus it may be more open to a less upright posture. While this is one of the more marketed features of the chair, we aren't really into it that much. Why?
Remember that you should not use a kneeling chair for the entire duration of your duty hours. It should be a compliment and not a replacement for your traditional chair. And most office chairs will have a backrest. So a kneeling chair with a backrest kind of defeats the purpose of it all.
Kneeling chairs are designed to push you a bit more forward so that your pelvis is in line with your back. And if the kneeling chair has a backrest and you'll use it often, you're going to veer away from this angle, which is the primary intention of the design. 
Though yes, it can offer relief for your back if it gets tired or if your ab muscles need a break. But it will not really make you last in the chair longer? Not really.
Take note that when using kneeling chairs, your legs have very limited movement. That's why you need an office chair at the same time. So even if the Qdos does have a backrest and even if it's adjustable, you will still not last longer in it because your legs will get tired and numb.
The Qdos can be used by a few people only even if it has adjustable features
Another one of the gripes is that the Qdos doesn't seem to have an adjustable incline. And you will not be able to adjust the height and angle of the knee rest. So this will limit people who will find it comfortable. 
Though it offers a height-adjustable seat and backrest that you can push back, it seemed to do minimal for the unit.
So this can be a deal-breaker too. Unless you fit perfectly right into it and just don't use the backrest that much, then you may still be able to take advantage of the benefits of a kneeling chair. 
Here's a comparison. The Varier Balans does not have any adjustable elements, it felt like it was able to achieve the goals of a kneeling chair. It will also have fewer groups of users since it has no adjustment options. But it did offer a rocking option and it seemed to have worked a lot for the unit.
It's not the perkiest looking kneeling chair
Another quirky pro of a kneeling chair is that it can add an interesting look to your office. Since they have quite a different configuration from a regular office chair, they can add some charm to the space. 
We also love those that are made of wood. And even rocking kneeling chairs also add an element of joy and fun to mundane office life. These chairs will also look interesting in a corner for a bit of vintage or boho touch.
The Qdos, on the other hand, looks like a confused kid. It can't decide if it wants to look like a traditional office chair or a kneeling chair. 
So it decided to be a combination of both. Though that is not totally wrong, it is not working for the unit, especially in the aesthetics department. And from afar, if you'll not see the knee pads right away, you can mistake them for an office chair or a task chair. 
When adjustable features don't really amount to comfort
We can see the efforts made with the Qdos kneeling chair to make it fit for most users. It has several adjustable features such as an adjustable seat height and the backrest can be pushed a bit back, so there are micro-movements there.
And the seat and knee pads are made of memory foam. So in terms of plush comfort, it will not deprive you of that.
But sans the adjustable features, it seemed not to work much for us. We think that it can be used to reap the benefits of a kneeling chair if the back is removable.
The construction of the base is also a turn-off for us. We'd rather use one that is not adjustable but with the traditional configuration. 
And the knee pads cannot be adjusted independently with the seat. So a few users will fit into it. But we see it's best used if you will not really lay your back on the backrest. That will defeat the entire purpose of a kneeling chair.