Innovative employers and freelancers such as architects, graphic designers, engineers, and artists are choosing standing desks in lieu of traditional office equipment. For these professionals, the right chair and desk are just as important as any other tool in their workspace. The ability to sit or stand at a workspace offers physical and mental benefits that can't be ignored.
While standing at your desk will help you burn calories, there may be times when you really need to sit. If you've just started to use a standing desk, you'll likely be unprepared physically to stand on your feet all day. Whether your back is killing you because you aren't used to standing all day,  or you need to get off your feet for a few, it's important to have a good office chair available. Not only should this equipment be available, but it should complement a sit-stand desk. Due to its unique design, a drafting chair is a perfect furniture to use with a countertop desk. Here, we'll go over what you should look for and how to determine what chair works for you.
What's a Drafting Chair?
If you're in the market for a chair to go with your standing desk or drafting table, you'll soon find that there's only one piece of equipment that meets this need perfectly; a drafting chair. These types of stools and chairs are made specifically to be used with drafting tables, sit-stand desks, and elevated surfaces to maximize effectiveness.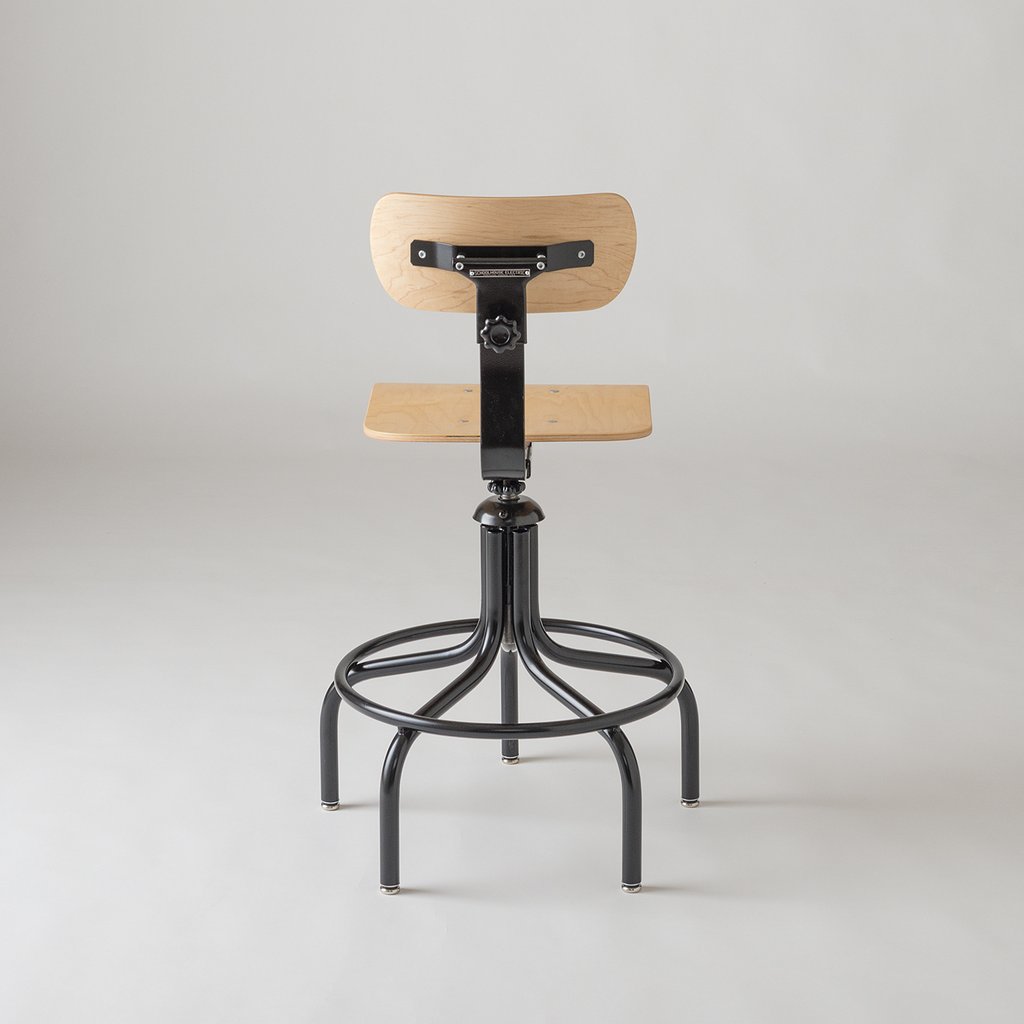 Just like normal furniture, you can buy these desk accessories in a variety of colors and designs. But, it's each product's specifications that will determine whether it's the right fit for your set-up or design. Keep in mind, that not every option will be considered a traditional chair. When shopping for this furniture you should make sure to consider the following options as well.
Drafting stool

Leaning/Perching stool

Traditional desk chair
Drafting Stool
A drafting stool looks like any other stool at first glance. However, the stool likely has wheels for swiveling to help users move back and forth across office space and reach tools easily. The downside to this design is it doesn't have back support and might not be ideal for every person.
Leaning/Perching Drafting Stool
What's a leaning or perching drafting stool. Well, it's exactly what you'd think it was from the name. The learning or perching stool is built on a base that allows the user to sit on the seat and lean back, forwards or side to side. When adjusted correctly, users can stand at the desk while perching on the stool. The person using the stool doesn't have to fully commit to sitting and can take the pressure off their feet and legs by resting against or slightly on it.
Traditional Desk Chair
The last option is a traditional desk chair, but it's not the right choice for a sit-stand desk. A traditional office chair won't be high enough to be helpful. But, if you're just looking for a place to sit, somewhere in your office,  you'll get what you need from one of these items.
How to Choose the best Drafting Chair for Standing Desk Usage
Overall, you want to choose the best chair that is comfortable to sit in, is easy to adjust, durable for everyday use, and fits within your budget.
When shopping for a drafting stool or chair, you want to keep productivity and risk of injury in mind. You've probably already set-up your footrest, mat, and adjusted the desk to the right height and placement. The good news about the addition of a stool or chair is that it can help overcome deficits in your existing set-up. By taking the time to choose the right furniture for your office space, you can create a comfortable environment that supports your height, provides excellent lumbar support, and doesn't interfere with the angle of your elbows.
As we mentioned above, adjustability is a huge factor when choosing a drafting chair. If you're prone to lower back pain, you may be drawn to a chair that offers lumbar support, but what you should really look for is equipment that offers the most adjustment opportunities. With many options available, you'll be prepared for any ailment or situation that presents itself. At the very minimum, you should choose a sit/stand desk chair with adjustable:
Pneumatic seat height adjustment lever (minimum of 33" and at least 37")

Detachable and adjustable armrests

Seat tilt mechanism

Ability to swivel 360-degrees

Backrest angle

Height adjustable foot rings or rest
Some of these features may be optional for some users, but one feature that is a must for any shopper is the footrest or foot rings. Most users feet won't touch the ground when sitting in the tall chair. It's important to have a place to rest your feet, or you'll risk your feet and legs going numb, which can be uncomfortable and painful at times.
Take Drafting Stool/Chair Comfortability Seriously
Now that you've started to narrow down your options, it's time to consider comfortability. The most important feature regarding comfort is cushioning. There's nothing worse than trying to get comfortable in a hard chair. Ample cushioning will help achy muscles relax; especially muscles around the buttocks and lower back region. For knee support, the chair should offer to cushion around the edge of the seat often called a waterfall seat edge. You may also want to consider frame and seat materials. Common materials used to create an adjustable chair include:
Plastic

Metal

Nylon

Steel

Chrome
There are also several material options for cushioning and the backrest. Options that may be available to you include:
Leather

Faux leather

Upholstered fabric

Plastic

Nylon
Shop for Drafting Chair Durability and Budget
The next two topics go hand and hand; durability and budget. The key to finding the right mix is considering how long you plan to use the equipment for and whether the product will meet that requirement. If you find a standing desk chair that meets your comfort and need requirements but is a bit out of your budget, you'll want to determine how long it will last. The same considerations should be factored in if you find a relatively cheaper alternative. If the chair isn't comfortable, or you don't like sitting in it, it won't matter how much money you save because you won't want to sit in it.