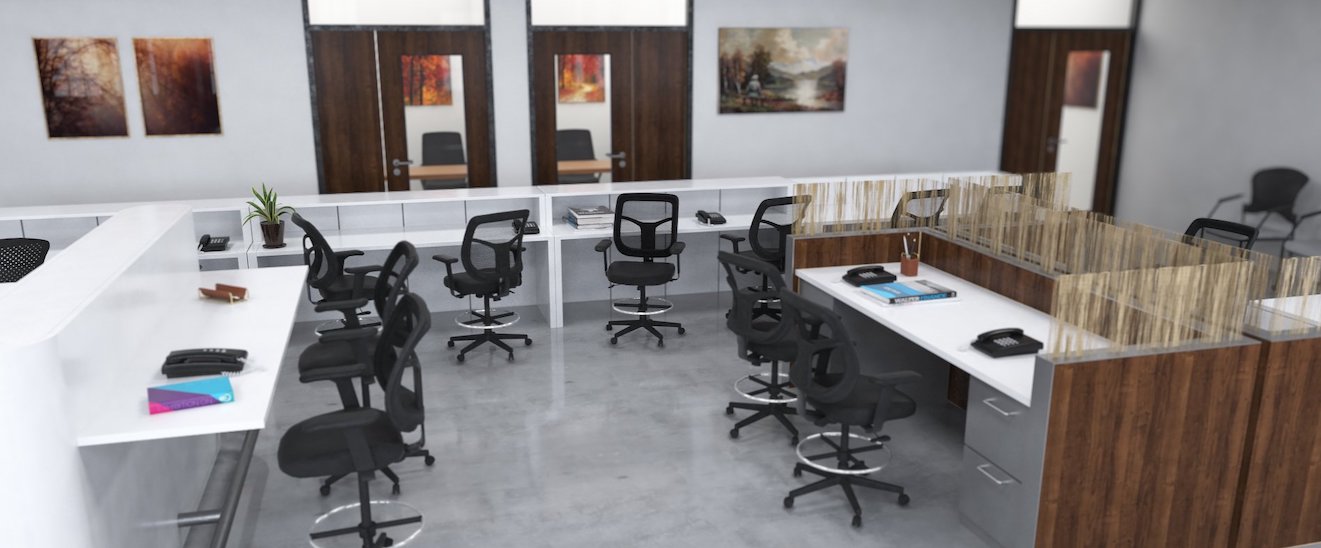 Innovative employers and freelancers such as architects, graphic designers, engineers, and artists are choosing standing desks in place of traditional office equipment. For these professionals, the right chair and desk are just as important as any other tool in their workspace. Sitting or standing in a workspace offers physical and mental benefits that can't be ignored.
While standing at your desk will help you burn calories, there may be times when you really need to sit. If you've just started to use a standing desk, you'll likely be unprepared physically to stand on your feet all day. Whether your back is killing you because you aren't used to standing all day,  or you need to get off your feet for a few, it's important to have a good office chair available. Not only should this equipment be available, but it should complement a sit-stand desk. Due to its unique design, a drafting chair is the perfect furniture to use with a countertop desk. Here, we'll go over what you should look for and how to determine what chair works for you.
How to Choose the Best Drafting Chair for Standing Desk Usage
You want to choose the best chair that is comfortable to sit in, easy to adjust, durable for everyday use, and fits your budget.
When shopping for a drafting stool or chair, you want to keep productivity and risk of injury in mind. You've probably already set-up your footrest, mat, and adjusted the desk to the right height and placement. The good news about the addition of a stool or chair is that it can help overcome deficits in your existing set-up. By taking the time to choose the right furniture for your office space, you can create a comfortable environment that supports your height, provides excellent lumbar support, and doesn't interfere with the angle of your elbows.
As we mentioned above, adjustability is a huge factor when choosing a drafting chair. If you're prone to lower back pain, you may be drawn to a chair that offers lumbar support, but what you should really look for is equipment that offers the most adjustment opportunities. With many options available, you'll be prepared for any ailment or situation that presents itself. At the very minimum, you should choose a sit/stand desk chair with adjustable:
Pneumatic seat height adjustment lever (minimum of 33" and at least 37")

Detachable and adjustable armrests

Seat tilt mechanism

Ability to swivel 360 degrees

Backrest angle

Height adjustable foot rings or rest
Some of these features may be optional for some users, but one feature that is a must for any shopper is the footrest or foot rings. Most users' feet won't touch the ground when sitting in a tall chair. It's important to have a place to rest your feet, or you'll risk your feet and legs going numb, which can be uncomfortable and painful at times.
Best Drafting Chairs for 2023: What to Get for Your Standing Desk
Drafting chairs allow you to smoothly transition to a sit-stand position. We're going to show you the top 5 of the best drafting chairs this year that you can use with your standing desks, recommended by our testers from the US and Canada. These brands have excelled in terms of ergonomics, value for money, and comfort that it gives.
Without further ado. Let's head down to our top picks.
Oftentimes, taller people find it hard to find a comfortable drafting chair. You often find chairs with height adjustments that are too short. It can cause too much tension on your sitting bones or your knees can extend beyond the edge of the seat. Either way, it's really uncomfortable.
This product may be the answer to your dilemmas. Not to mention it's the lowest-priced drafting chair on our list. 
The Eurotech Seating Apollo DFT9800 drafting chair can accommodate taller people. It has height adjustments from 26 to 36 inches. Thus, it ensures comfortable seating for those who are long-legged.
Moreover, this product is highly adjustable. From the seat height, arm height, ratchet back, and footrest to the width of the arms, you can find the perfect setting for your individual needs. Thus, you can confirm the measurements of each part of the chair to fit your body.  
The chair raises high enough for a standing desk and it also lowers enough for you to be able to touch your toes.
You can even move the armrest a bit farther away from your body. So it's also comfortable for those who have a wider waistline. 
And you'll notice that the chair weighs around 50 lbs. It will give you a sense that this product is well constructed. Moreover, it can support up to 250 lbs.
Also, it has a waterfall edge seat that helps relieve pressure on your thighs and allows for better blood circulation. And the back mesh material maintains adequate ventilation to keep you cool while you work. 
Overall, it's a comfortable chair for taller people who are on a budget. Most drafting chairs that can accommodate tall people usually cost roughly around 1000.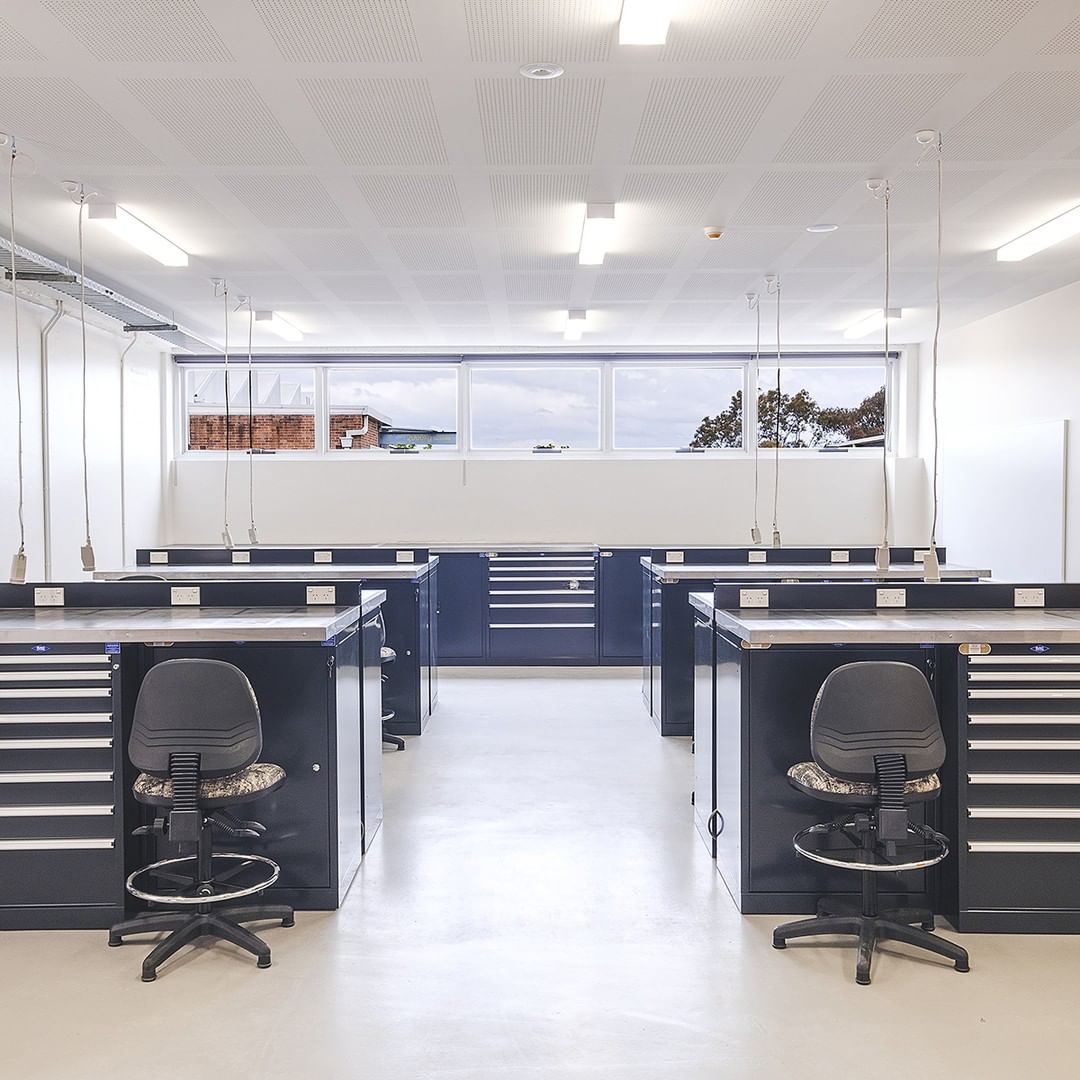 Pros
Has a maximum seat height at 36 inches

Swivel base

 All parts are adjustable

Easy to assemble

Comes with optional wheel coasters and sliders
Cons
The lowest setting may still be too high for some

The foot support ring can't be raised high enough
Where to buy
Herman Miller Aeron Chair
This brand is available in three sizes ( A, B, and C). And the Herman Miller Aeron A is a perfect fit for shorter people. 
While taller people may find it hard to find a comfortable drafting chair, the same is true for shorter people. Most of the time, you just find your legs hanging even at the lowest heat setting. 
This petite drafting chair has a seat height adjustment of 15-19 inches. So it can offer comfortable seating for someone shorter than 5 feet. 
One of the biggest advantages of the Herman Miller Aeron Size A is the refined tilt system. This feature allows more range of movement to keep your blood circulation going. Moreover, it follows the natural contours of your body.
Furthermore, Herman Miller Aeron is known for having a human-centered design. The chair is designed to flow with your every movement. Thus it's perfect for a sit-stand desk. On top of it, everything is pretty much adjustable- the seat, lumbar support, and arms. 
Another advantage of this drafting chair is its Posturefit SL Backrest. This exclusive feature provides optimum spine and lumbar support. It's also equipped with a tilt limiter. So It allows your pelvis to naturally move forward while keeping you safe. 
So, it's quite fitting to say that this chair has your back. Because it truly does provide that support that other drafting chairs may lack. 
Also, the mesh backrest and seat material can provide a cooler and more breathable seating experience. It works well in areas with a bit more sun and humidity. You won't be dripping wet by the end of your shift. 
On a note, this chair uses an air chamber to adjust the height of the chair. These parts may have a limited lifespan, but you can easily find a replacement for them. 
All in all, this brand is one of the most ergonomic drafting chairs for your standing desk. And if you're a fan of the breathable cool mesh material, this might be your drafting chair.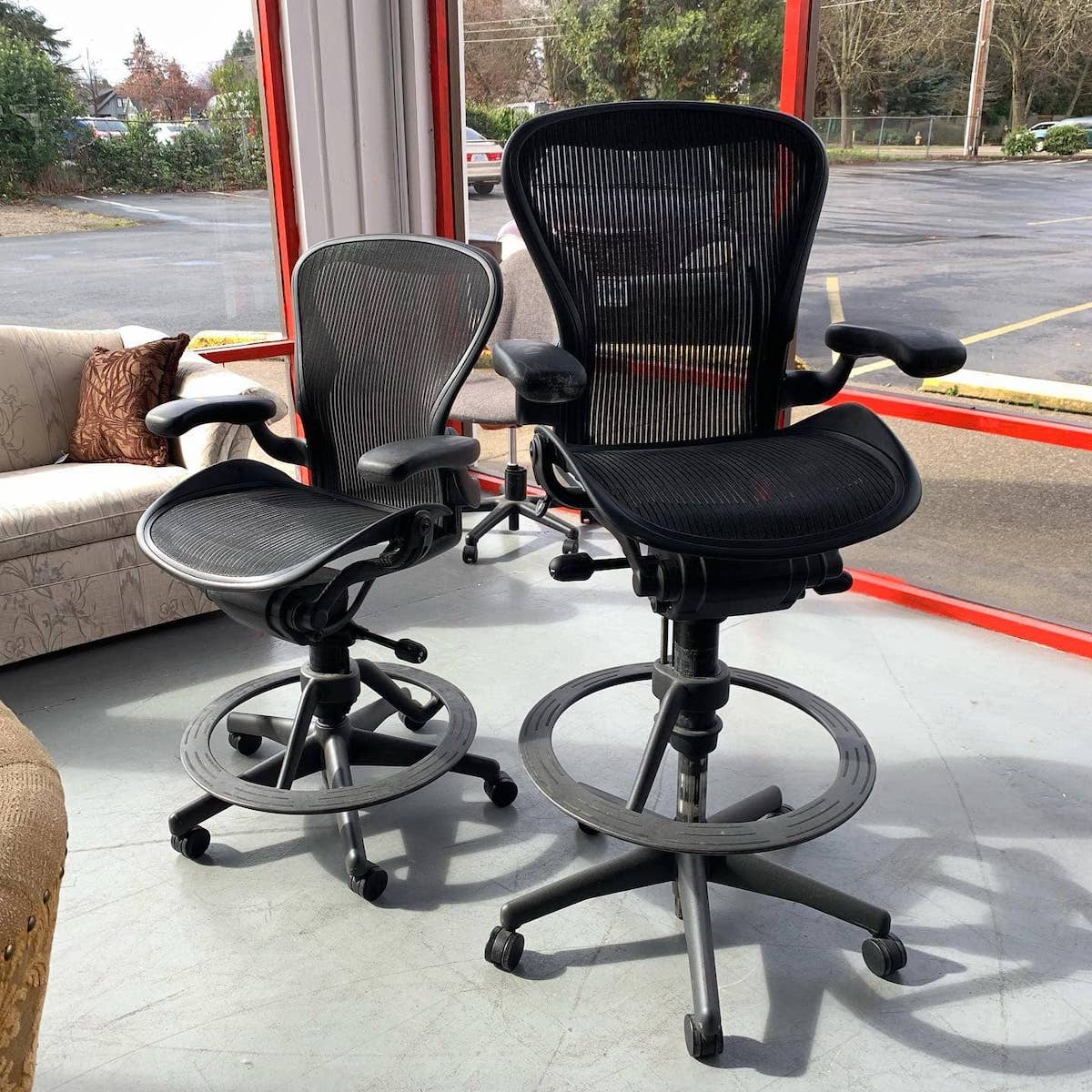 Pros
Comes in fully assembled

Fully ergonomic

Optimum lumbar and spine support

Has a forward-tilt option

Replaceable mesh seating
Cons
The foam bumper may warrant replacement over time

Doesn't have a footrest
Where to buy
Steelcase Leap Drafting Stool
The Steelcase Leap drafting stool is quite flexible. It can comfortably seat people of all sizes. Whether you're short or tall, you can find customization to adjust the chair according to your needs. Let's dive into the features one by one.
First, the backrest is one of the most comfortable that we've ever tried. It boasts of LiveBack technology. This feature feels as if the chair follows you as you move. It's quite exceptional and it's one of our favorite features. It typically follows the curve of your spine as you move. In a way, it mirrors your movement so that you're fully supported in whatever position.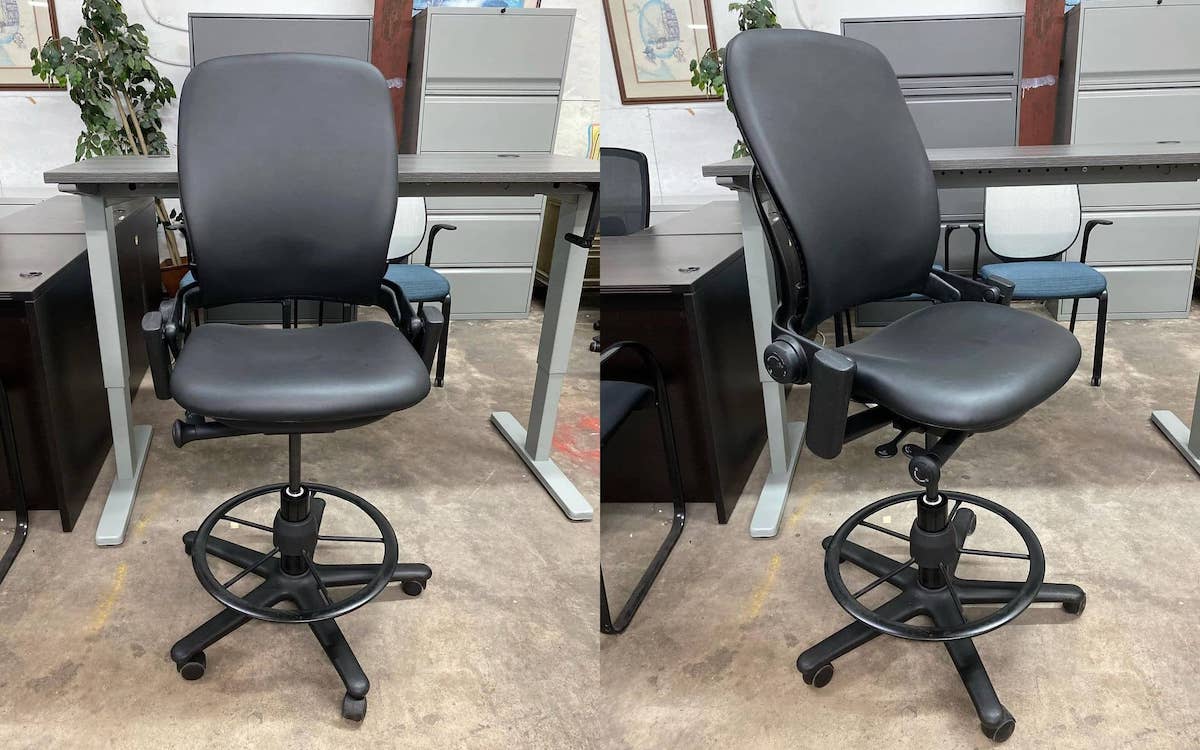 Also, it has additional lumbar support pads. This encourages you to have a better posture while seated. Everybody tends to slouch when they get too comfortable on a chair. So these lumbar pads can fill the gap between the spine and the chair, hence forcing you to sit upright. 
Another unique feature is its movable armrests. The armrests are the most adjustable that we have ever seen. You can also move them up-down and left-right. So in a nutshell, the armrest can actually follow every angle of your arms. If that ain't comfortable, we don't know what else is!
In addition, the seat height adjustment ranges from 22-30 inches. This chair has 5 levels of tilt limiters. The limiters take the place of the reclining lever. Instead, it sets a "safe" distance of how far you can recline your seat. 
Another uncommon feature is the resistant knob located on the right side of the chair. This knob sets the resistance of the back seat. If you don't want that slight bouncing motion, you can always tighten up the knob.
In conclusion, it's an upgrade from your old drafting chair. It's highly adjustable and has a lot of features that you won't just find in any brand.
Pros
Soft and firm cushion

Optimum comfort

Highly adjustable

Durable and well built

Fit for people of all shapes and sizes
Cons
The padding is prone to stains
Where to buy
Flash Furniture Drafting Chair – HERCULES Series Big & Tall
A game-changer for big and tall guys with an impressive weight capacity of 400 lbs, combining style, comfort, and functionality in one impressive package
Let's talk about the dimensions first. With a size of 35 inches in depth, 27 inches in width, and a height of 19.25 inches, this chair offers ample space to accommodate your frame comfortably and provide the necessary support and stability you need during long hours of work.
The standout high-back design not only does offer excellent support to your upper back but also features a 5-inch thick foam padding upholstered in LeatherSoft material. The foam padding is also fire retardant, meeting the CAL 117 standards for safety.
The versatility boasts a height-adjustable chrome foot ring which has a generous 28-inch diameter, providing ample space for you to rest your feet comfortably. And the dual-wheel casters ensure smooth mobility, like other flagship office chairs. You can put it on the run quick and quiet
And finally, let's not forget about the practical aspects. The Flash Furniture Drafting Chair comes with a 2-year warranty, and bonus a 30-day return policy, so you can pick it with more confidence.
Harwick Evolve Heavy Duty Drafting Chair
For the budget, our tester – Andy in Montreal confirm that the Harwick Evolve drafting chair is one heavy-duty drafting chair that can support a weight of up to 325 lbs. 
One of the features that we really liked is that this chair holds up pretty well. It looks solid and well-built. And the gunmetal finish adds a touch of sophistication to the chair. It also comes with dual-wheel hooded casters. This type of wheel can bear more weight. So it's made for the heavier worker.
Furthermore, it has the basic qualities of what a good ergonomic chair should have. It has adequate lumbar support, a flip-up armrest, and a mesh waterfall seat for increased ventilation. Even the backrest is made of mesh, so you can comfortably work even in the summer.
Also, the chair can be tilted to any position. And to ensure safety, it comes with a tilt lock to secure that spot. It also boasts a 2 to 1 Synchro Tilt System. Meaning, you can recline the back faster than the seat.
It's also a 360-degree chair. This feature helps keep things rolling faster in your office. Not to mention, it can be quite fun too. It gets the boredom out of the office chair. 
In addition, it also has an adjustable footrest. It even comes with a knob to hold the footrest in place. We find the footrest rather stable. And it doesn't wobble. So your legs are fully supported. 
All in all, It's one of the lower-priced drafting chairs that can still offer comfortable seating for those who are on the heavier side.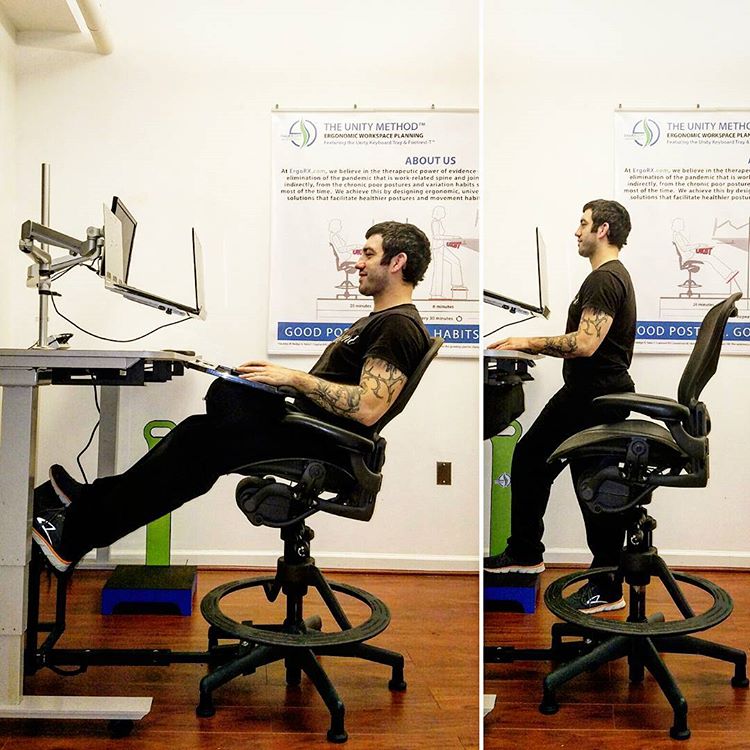 Pros
Can accommodate those who are heavy

Durable 

Double wheeled casters

Mesh waterfall seat edge

Has a tilt lock

Large adjustable foot ring
Cons
The base is made of thick plastic instead of metal
Where to buy
What's a Drafting Chair?
If you're in the market for a chair to go with your standing desk or drafting table, you'll soon find that there's only one piece of equipment that meets this need perfectly; a drafting chair. These types of stools and chairs are made specifically to be used with drafting tables, sit-stand desks, and elevated surfaces to maximize effectiveness.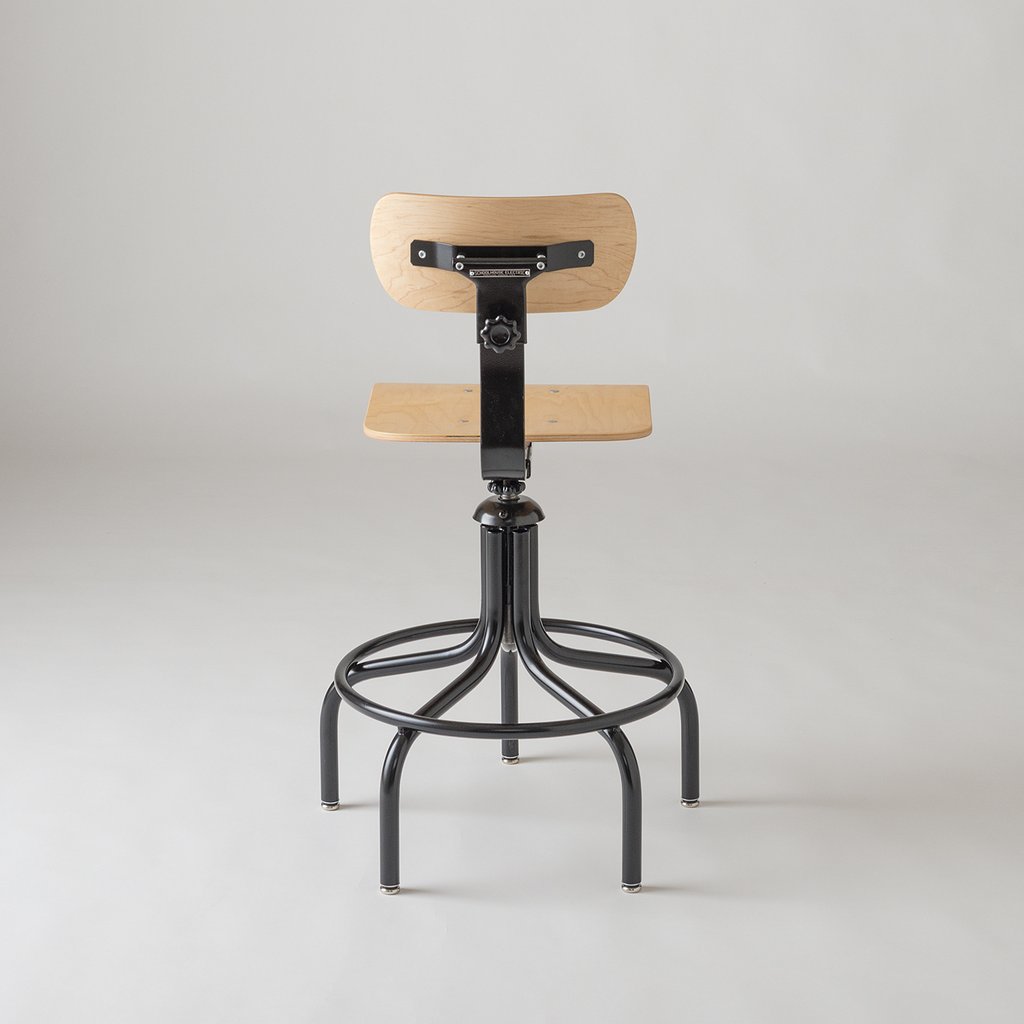 Just like normal furniture, you can buy these desk accessories in a variety of colors and designs. But, it's each product's specifications that will determine whether it's the right fit for your set-up or design. Keep in mind, that not every option will be considered a traditional chair. When shopping for this furniture you should make sure to consider the following options as well.
Drafting stool

Leaning/Perching stool

Traditional desk chair
Drafting Stool
A drafting stool looks like any other stool at first glance. However, the stool likely has wheels for swiveling to help users move back and forth across office space and reach tools easily. The downside to this design is it doesn't have back support and might not be ideal for every person.
Leaning/Perching Drafting Stool
What's a leaning or perching drafting stool? Well, it's exactly what you'd think it was from the name. The learning or perching stool is built on a base that allows the user to sit on the seat and lean back forwards or side to side. When adjusted correctly, users can stand at the desk while perching on the stool. The person using the stool doesn't have to fully commit to sitting and can take the pressure off their feet and legs by resting against or slightly on it.
Traditional Desk Chair
The last option is a traditional desk chair, but it's not the right choice for a sit-stand desk. A traditional office chair won't be high enough to be helpful. But, if you're just looking for a place to sit, somewhere in your office,  you'll get what you need from one of these items.
Take Drafting Stool/Chair Comfortability Seriously
Now that you've started to narrow down your options, it's time to consider comfortability. The most important feature regarding comfort is cushioning. There's nothing worse than trying to get comfortable in a hard chair. Ample cushioning will help achy muscles relax; especially muscles around the buttocks and lower back region. For knee support, the chair should offer to cushion around the edge of the seat often called a waterfall seat edge. You may also want to consider frame and seat materials. Common materials used to create an adjustable chair include:
Plastic

Metal

Nylon

Steel

Chrome
There are also several material options for cushioning and the backrest. Options that may be available to you include:
Leather

Faux leather

Upholstered fabric

Plastic

Nylon
Shop for Drafting Chair Durability and Budget
The next two topics go hand and hand; durability and budget. The key to finding the right mix is considering how long you plan to use the equipment and whether the product will meet that requirement. If you find a standing desk chair that meets your comfort and needs requirements but is a bit out of your budget, you'll want to determine how long it will last. The same considerations should be factored in if you find a relatively cheaper alternative. If the chair isn't comfortable, or you don't like sitting in it, it won't matter how much money you save because you won't want to sit in it.
You can find the perfect one for your home office from the most affordable yet functional drafting chair to the most ergonomic one.
Our list will help you spot the suitable ergonomic chair that can complement your standing desk. Let us know your thoughts!