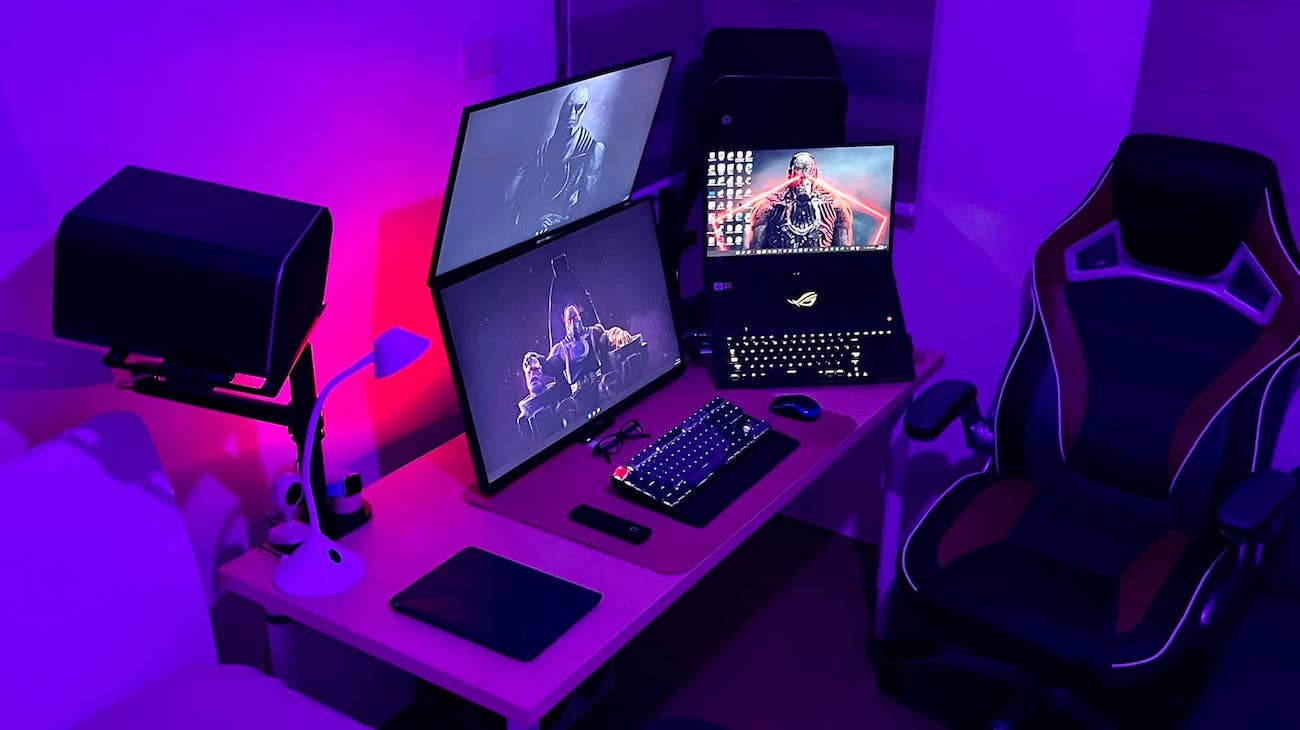 Either you're working for long hours or you're taking gaming seriously, you need a chair that can support long hours.
PC Gaming office chairs should provide ample support for your back, legs, and shoulders. It should be comfortable to sit for even long hours (8-12 hours). And the last thing that should interfere with your game or work is an aching back. But you don't want to run your budget with an expensive gaming office chair.
What's the difference between a cheap gaming office chair and an expensive one? You can feel a difference, but you might not know exactly what it is that determines if a chair is worth the price tag or overrated for its cost. When it comes down to it, your chair is where you are going to spend a lot of your working day. When you go home to rest after your 9-5, it's likely that you are also going to be sitting, and if your office chair is giving you problems, it will be hard to stay comfy at home with possible back and neck pain you've experienced for quite a bit of your day. 
Well, no one wants the problem
That's why we have curated a list of the best PC gaming chairs under $200 but still get solutions for everything you will face. These multi-purpose chairs will give you the seating experience without having to shell out a lot of moolah.
Before taking a look at our top picks, we need you to focus on other things first.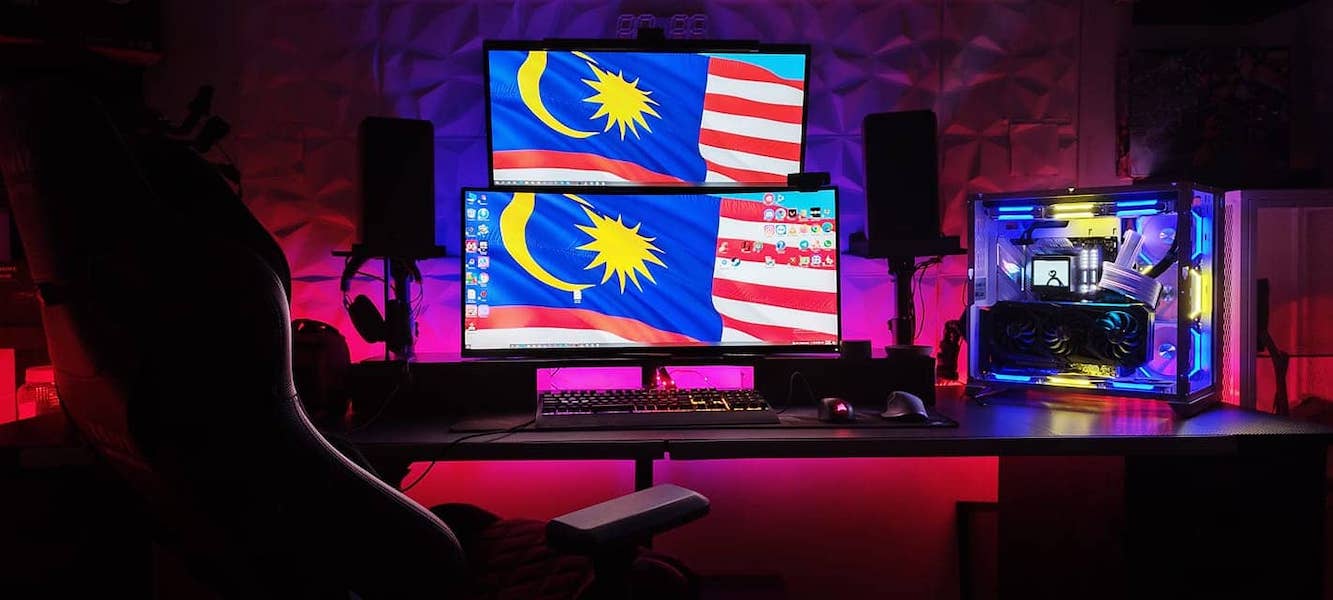 Before buying a comfortable Gaming Chair
There are a number of things every great PC gaming chair should have. These are the criteria for a good chair, and there's no compromising these components of an office chair if you're looking for a quality piece of office furniture.
Adjustability: Almost all office chairs have a height and arm adjustment; however, these are not the most important adjustments to look for when shopping for an office chair. The best office chairs have a number of adjustments to accommodate whatever position you may need.
Lumbar Support: A good gaming chair will have support for the lower back. Some of the better ones will even have adjustable lumbar support that allows the user to fit the chair to their lower back. This is important in preventing back strain that can worsen and become sciatica, a condition that can be debilitating. Important features that should be adjustable include lumbar support, arm width and height, seat back width and height, seat and back angle, and tension control. Many of the supports are dial controlled while a few are controlled with a hand-held bulb pump, similar to a blood pressure cuff pump.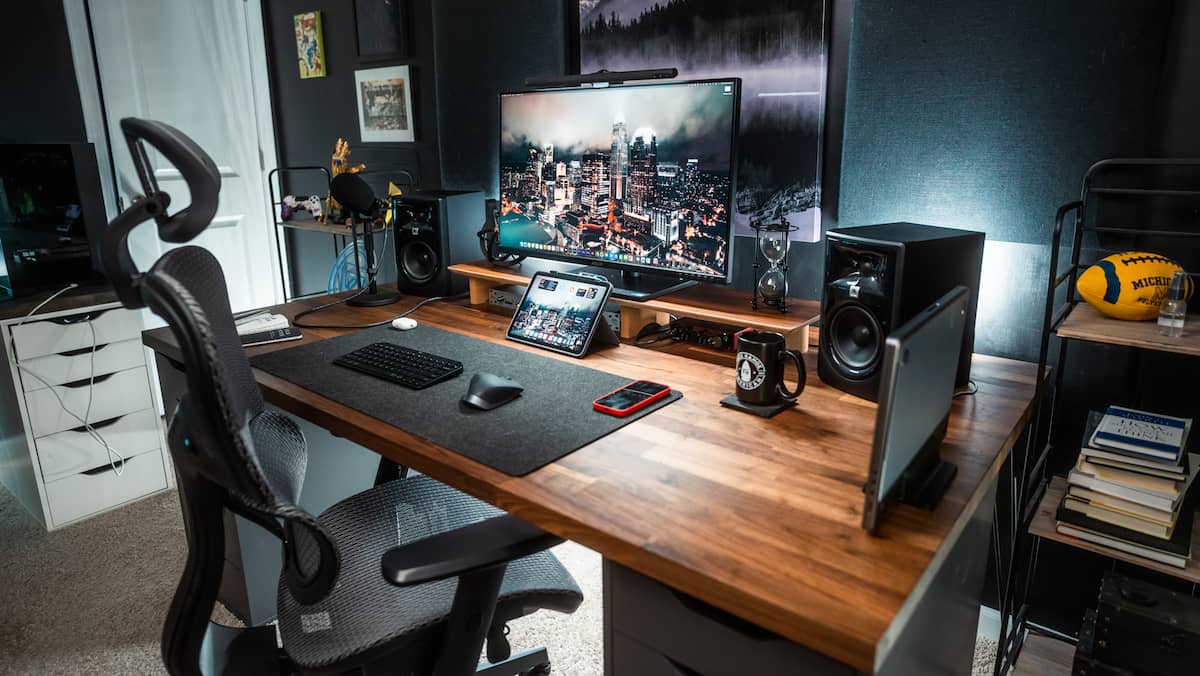 Wheelbase: Nearly all office chairs have a wheelbase; however, if the office is carpeted it may be necessary to get a chair with wheels specifically made for carpet. Rolling is important in preventing strain due to reaching across a desk to retrieve items that are out of reach.
Swivel Base: All office chairs should swivel freely to allow for easy access to various parts of the desk. If the chair doesn't swivel freely, arm fatigue can result from overextending to reach various items.
Fabric: The fabric should be breathable to keep the chair from becoming hot and uncomfortable after hours of sitting in it. In addition, it should have enough cushion to support the person sitting in it without feeling the base of the chair through the cushion.
—
Even for a gaming chair with the greatest price, we still need all factors must be equal. So, let's see all picks we have suggested for you
top 5 most comfortable gaming chairs under $200
RESPAWN 110 Gaming Chair
RESPAWN 110 is a comfortable and versatile chair at the same time. It boasts features that make it perfect for comfortable prolonged sitting.
One, it's fully ergonomic. And it has almost all the complete features built for comfort. It boasts 4D adjustability. You can easily recline the backseat from 90-155 degrees. We love how it offers infinite angle adjustment. It also features an angle lock that allows you to tilt at whatever angle you want.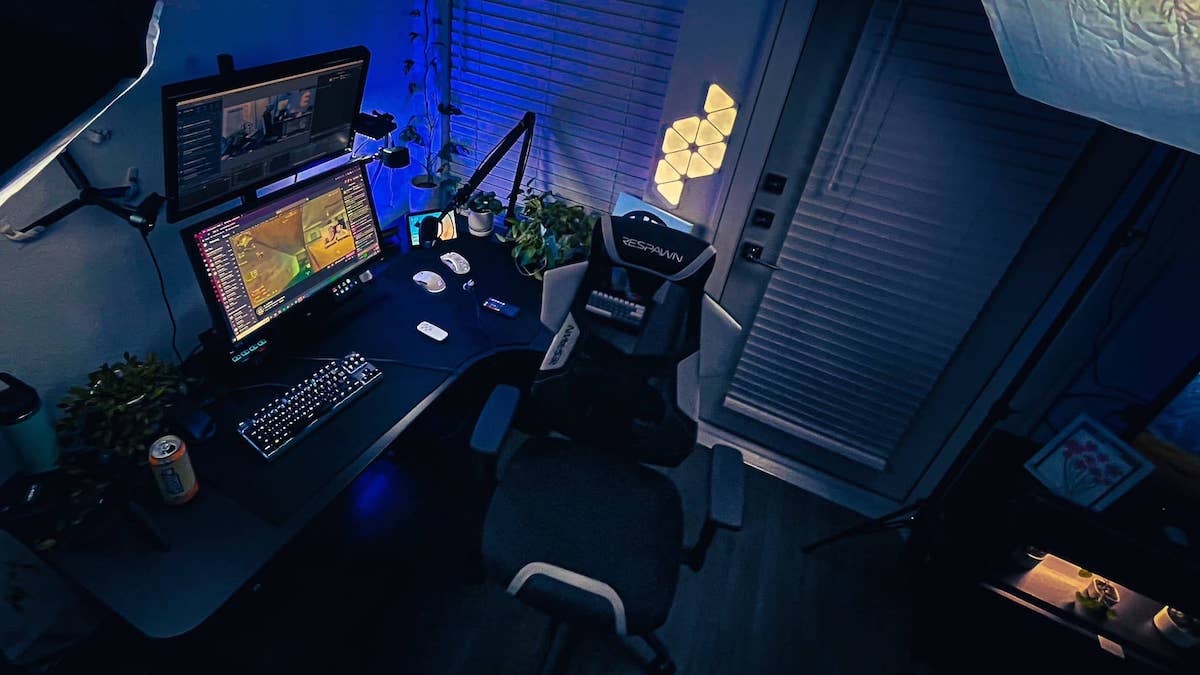 Two, the armrests are padded too. So even your elbows will be fully comfortable. The armrest also pivots as you recline the back seat. Moreover, you can also get great support from the adjustable backrest and lumbar support.
And of course, the extendable footrest is a great addition. Not all gaming chairs have it. These are perfect for those with shorter legs too. Instead of your legs just hanging from the seat, you can conveniently rest them on the footrest. And so it helps improve blood circulation in your legs.
In conclusion, it's a fully ergonomic and versatile chair that offers about every convenient feature that you might be looking for in a gaming chair. It can support 275 lbs and is made of heavy-duty materials. Also, it's one of the most durable office gaming chairs in the market too.
Pros
Extendable footrest

Infinite angle tilt lock

Fully ergonomic

Durable and heavy-duty

Thick wheels and legs

Fits people of all shapes and sizes
Cons
The seat can use a little more cushion
Where to buy the 2023 series
Staples Bonded Leather Racing Gaming Chair 
When you are petite and short, it's challenging to find a comfortable gaming chair. You always find your legs hanging from the seat. And this could put a strain on your back too. Now, this product is the answer to your short legs dilemma. It's a comfortable gaming chair for people with shorter legs.
Let's talk about the design first, it looks rather funky and modern with its black and red bonded leather. In addition, it also has blue color blocks with contrast stitching. It adds a contemporary feel to this office gaming chair. And this chair already has that gaming look. But it won't give you that racing seat that you often would experience with some brands.
The seat is quite comfortable too. It actually consists of two types of materials. The foam at the center is firm while the surrounding padded seat is softer and more cushiony. It feels comfortable most of the time. But if you are on the heavier side you may find your weight tilting forward. 
Furthermore, this gaming chair can be tilted. And you can stiffen the tilt with the tilt adjustment knob. And secure its position with the tilt lock. We love how the seat height can be easily adjusted with the lever.
Also, it has a substantial weight and can accommodate a weight of up to 275 lbs. That makes it a mid-range office gaming chair. 
Some of the things we're not that fond of are the adjustable armrests. It's a flip-top armrest but you really can't fine-tune it that much to fit your needs. But you can adjust the height of it, so it's more of a 2D armrest.  
All in all, it's a midrange office gaming chair that can also accommodate those who have shorter legs. And we find the lumbar support is decent enough for long hours in front of the computer. 
But it might not give the needed lumbar support for those who have existing back issues. If you love an office chair with a gaming look but you're not into the race car seat feel, this chair might be for you too. 
Pros
Comfortable for those with shorter legs

Easy to assemble

Doesn't feel like a race car seat

Modern and funky design
Cons
You can't fine-tune the armrest to your specifications

Materials used may expose you to some chemicals
Where to buy
G Tracing Gaming Office Chair 
G Tracing gaming office chair is perhaps one of the well-padded office gaming chairs in the market today. Except for the armrests, everything is covered with a thick cushion. 
First off, it boasts of a thickly padded seat that lends a very comfortable experience. You wouldn't mind sitting in front of your computer all day. And also, it has adjustable padded lumbar support and headrest. Since these are adjustable it can provide you with better support and you can adjust it to fit your height.
And there's more to than just the comfort with the thick cushions and padded seat. It's quite durable and doesn't wear down that easily. Furthermore, it can support a weight up to 330 lbs. Though it can pretty much hold that much weight we find this chair too narrow for people who have a bit more width around the waist. 
Another great feature is that this gaming chair can be rocked back and forth. It's a nice touch to eliminate the boredom in prolonged seating. Moreover, it can safely tilt from a 90-170 degree angle. So this office gaming chair really does lend a great experience. 
As a whole, it's a cool-looking chair that screams gaming upfront. If you're looking for a racer-type of chair, this is it. And the cushions will serve those who want a bit more padding on their seat. 
Pros
5 caster wheels

360-degree swivel

Can be rocked back and forth

Thick padded seat
Cons
The lumbar support may be too big for some

Challenging to adjust the lumbar support 

Too narrow for those who are a bit wider around the waist
Where to buy
Cyrola Large Gaming Chair
This office gaming chair can accommodate a weight of up to 350 lbs. It's heavy-duty and is specifically designed to seat people who are on the heavier side.
Furthermore, Cyrola Large is a race car-type gaming chair that looks really modern and cool. Let's see the following features that make it a comfortable office gaming chair.
One of the biggest advantages is that this chair can provide overall support to your neck, shoulders, and back. We found the headrest comfortable and cushiony. Then the lumbar support can be adjusted. You can move it up and down depending on your height. 
Then the armrests can be adjusted too. It can only be moved up and down, and it offers three adjustment levels. We also love how you can move the armrests inwards or outwards. But we wished that it had a little bit of cushion to protect the elbows. 
Another advantage is that you can fully recline the seat (90-180 degrees). This feature is convenient especially if you want to rest between gaming or working. And if you have longer legs, you'll find it rather comfortable. You can easily pull out the extendable footrest. And Of course, you can easily adjust the seat height via the lever. 
Also, the five rubber wheels move easily. And it's friendly on your hardwood floors too. The rubber wheels won't scratch your floors.
Overall, it's a gaming chair that offers a lot of functions even for those who are on the heavier side. You can also rock it back and forth. Since it can be fully reclined, you can take a snooze whenever needed. And you don't even have to get off the chair to do that. It's a perfect couch potato chair, to say the least.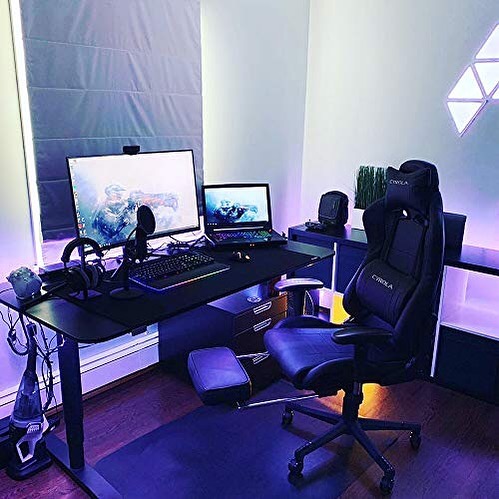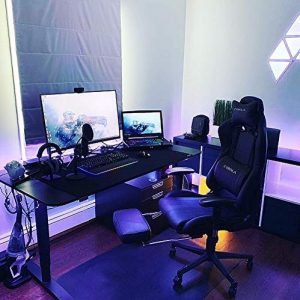 Pros
Can be fully reclined

Extendable footrest

Heavy-duty

Large seat

Can be rocked back and forth

High-quality leather material

Easy to assemble

Comes with installation tools
Cons
Lorell Executive High Back Chair 
This mesh back office gaming chair may look a bit different from your bulky racer car type of gaming chair. But its function won't disappoint you.
It's breathable and cooler. So it's highly recommended for those who sweat a lot in those bulky race car gaming chairs. Though it lacks bulkiness and padding, this seat can still fully support your back. 
The back of the chair has an S-shaped curve that mimics the natural curve of your spine. So we rated it also high in comfort despite the lack of cushion. It just follows your every movement. And it's also adjustable from 17-21 inches.
Another great feature is the 3D adjustable armrests. Not only can it be moved and down, but you also can adjust the width. You may set it far apart if you're on the heavy side. So it's fairly comfortable even for those with a wider waistline. 
You can also control how stiff you want the backrest to be. You can easily adjust the firmness or the stiffness of the backrest with the tilt adjustment and tilt lock. 
In a nutshell, it's a gaming chair with a breathable mesh material that's very comfortable and cool. It's perfect in the summer or in areas where it can get really hot and humid. And if you tend to sweat a lot in those bulky chairs, it's a perfect alternative. 
Pros
Fully adjustable armrest

Breathable mesh back

S-shaped backseat

360-degree swivel

Compact
Cons
The armrests are a bit wobbly

Can't provide sufficient back support for shorter people

Makes noise
Where to buy
People also read: Top 8 PC Gaming Desks Every Gamer Should Have in 2023