The fastest way to make a major change to your daily routine is to try to incorporate more exercises or activities into your day. For those of us that work full time, that can be tough. For that reason alone, many ignore the needs of their body and attempt to live life without proper activity. That cannot be the way you live if you wish to be healthy and happy. You may not be a runner, and you may not enjoy going to the gym to lift weights. One thing you can do to make an immediate impact is getting out of your seat and spend more time on your feet. Luckily for you, you don't have to limit your active time to the off-hours of work. A standing desk allows you to get up and get active, even if it means just standing while working on paperwork or new tasks.
Of course, it's not always an option to buy a brand new desk. Standing desk converters allow you to add a piece to your desk and allow for standing capabilities. Standing desk converters often feature a variety of functions, including portability, state-of-the-art design, and even organizational benefits. For many converters, they can be added on to any desk and be used almost directly out of the box. Others need a bit more construction from home upon arrival. The best way to convert what you already have rather than buy a brand new desk is to buy a standing desk converter. First, you need to know whether or not a standing desk is for you.
How do you decide a standing desk is for you? Well, here are the most popular reasons people will buy a standing desk converter.
Physical/Health Benefits
The benefits of a standing desk are numerous. The first and most obvious benefit is physical, you're doing more with your body while standing than sitting. Sitting in excess for long periods of time has been linked to stroke, heart disease, obesity, and diabetes. The most terrifying thing of all is these are not things that come gradually. Over time, a 40 hour a week desk job can take its toll on your muscles, blood, and bones and one day turn into a huge issue. The best way to combat immobility is to get up and be on your feet while working.
Standing desks allow you to stay on your feet, which helps blood flow properly and muscles remain active throughout the entirety of the workday. When you're on your feet, even if you're standing still, you are given the opportunity to use your body in order to ensure that it doesn't become stiff or deteriorating. Physical health is also linked to another major benefit of standing desks: mental health and productivity.
Mental Health and Productivity
When you're physically active, your brain also benefits from the exercise. Standing desks allow your brain to flow at full power, meaning you're less likely to be affected by depression, stress, and anxiety. If you haven't experienced these before, it's likely you will at one point in your life. The brain is much weaker when it is not participating actively in your schedule, and often sitting can allow us to daydream and space out, two things that force our brain to turn off and lose its momentum in the workday.
It's also worth noting that while we're sitting, there's more reason to stay lazy throughout the day. On your feet, you're more willing to stay focused and productive. For those who work in high-intensity offices, it can be crucial to stay "on" all day, and being on your feet makes it much much easier. Productivity is a tough variable to measure, and if there's anything you can do to help, it's crucial you embrace any solution available.
5 Standing Desk Converters to Elevate your Productivity
Now that we've chatted about the benefits of a standing desk converter, let's take a look at 5 options that you should consider if you're wanting to convert your desk to an on-your-feet experience.
Desk Doc
The Desk Doc is a good entry level standing desk converter. The adjustable height option means that you can transition manually with minimal effort. Basically, when you want to stand, adjust your raiser to lift your entire workstation up. The Desk Doc is meant to have a lot of room on it for any and all accessories you may want to bring up to a standing position with you. You can easily fit a monitor, laptop, keyboard, mouse and more without having to completely crowd your work area. A crowded work area means less productivity, so the Desk Doc does what it can to fix that issue for you.
The Desk Doc can raise up to 17 inches and lower down to 2.5 inches, meaning no matter how tall you are standing up, the standing desk converter can adjust to your height. The Desk Doc comes fully assembled meaning you can stand right away when you get it out of your box off the front door. Luckily, the time you save not having to set it up means you can get right to standing immediately and working on your projects.
The Desk Doc is just over $100, and offers you the ability to get it out of the box and start standing. The downfalls to the Desk Doc are in part due to its low price. There's only one surface to utilize, and the material of the desk isn't exactly built for multiple hardwares.
Mount-It!
The Mount-It! standing desk converter is a manually adjusting desk option for those looking to easily switch from sit and stand. The brand purposely puts their price at $150 because they want it to be easier to buy a Mount-It! than a brand new desk that costs $500. Healthier options shouldn't break the bank, and this converter is meant for easy transitions.
This standing desk converter is a bit more complex than the last. The Mount-It! riser comes with a keyboard tray that offers two different platforms for ample space. Monitors, laptops, and office essentials fit on the top shelf with keyboards and mouses available on the bottom shelf. The two shelves move effortlessly from sitting to standing within seconds by utilizing a gas spring mechanism. The height of the standing desk converter adjusts between 6.1 inches and 19.5 inches from the top of your already existing desk. This way, you can adjust as need be.
The gas spring arm lifts with ease and is as easy to use as the handle of a door. That being said the Mount-It! standing desk converter does require assembly and some minor installation. With a higher price point than the Desk Doc, the two surfaces is a plus, but both are rather small, and do require manual handling to adjust height.
Sita-Desk
The most expensive option yet, the Sita-Desk standing desk converter utilizes a great design to make sure that set up is easy and instant, as well as detailed for your experience. The sit-to-stand adjustable workstation allows you to follow your health benefits straight to a customizable experience. If you decide you want an hour sitting, you're able to move it manually and easily to accommodate your needs and wants. The large surface of the Sita-Desk is 36×25", meaning you can fit two monitors on the top space with organizational cups and cubbies, as well as place the keyboard on the separate, lower tray.
Sita-Desk uses a gas spring hovering system that allows for the workstation to move smoothly and adjust with a light squeeze of the handle. The perfect height you need isn't much of a struggle to achieve, but it is obviously more difficult with the more you have on the surfaces. A range of 18" allows you to hit the sweet spot, and avoid things like neck pain, fatigue, and other experiences ailing you as you sit all day at work.
The Sita-Desk is great because it requires no assembly out of the box. That does mean you can't do much to customize the accessory, however, leaving a bit to be desired. The next two options, on the other hand, are not only converting standing desks but also do the work for you.
Autonomous Smart Desk 2
The Autonomous Smart Desk 2 is a bit of a hybrid. The standing desk converter function comes with an entire desk itself for barely any more money than the options above. The added benefits to the Smart Desk 2 mean that you can avoid doing any handling to adjust the level of the desk. The Smart Desk 2 is meant for home offices spaces but can be used anywhere. The height is automatically adjustable and programmable for your needs.
The Smart Desk 2 isn't only a converter, but a full fledge desk. The amazing thing about the Smart Desk 2 is that for a low price, you get an entire desk that doesn't require any sort of added piece to make it a standing desk. The Smart Desk 2 is an amazing piece of technology that uses state of the art design to save space while also allowing you to sit and stand with multiple pieces of hardware on one surface that moves itself at your beck and call.
Like the Smart Desk 2, the Smart Desk 3 is not only a self-converter, but a full fledged desk itself. The Smart Desk 3 is a step up in price, but that comes with many features The option to organize your standing desk is crucial, but it often takes multiple different tools and contraptions. The Smart Desk 3 allows you to organize all hardware and accessories on one desk space. The surface of the Smart Desk 3 is sustainably built, and built to last. For a desk that looks simple and sleek, it's built to hold everything you need in the office. With a uniform design and finish that protects you from scratches and dents. The Smart Desk 3 is your key to adjusting your sitting and standing desk while not having to purchase a separate accessory.
The Smart Desk 3 is designed for all users. The rounded edges of the desk mean you're not confined to the typical rectangle shape that assumes you don't need extra space. When you purchase a standing desk converter, you're allowing yourself to use two seperate pieces of technology, but with the Smart Desk 3, you only need one piece of furniture for one affordable price. You can spend a little more than the other options for a desk with built-in AI, automatic height adjustments, and a sleek finish and design.
Conclusion
5 standing desk converters were included in this article. The first three are meant to be added onto your existing desk. The last two, Smart Desk 2 and 3, are meant to be an all-in-one package that you can use to adjust your desk for sitting or standing without needing multiple surfaces. The first options aren't bad, and they do allow you to add on to a desk you already own for a little over $100. That being said, the Smart Desk options aren't much more, and allow you to do so much more.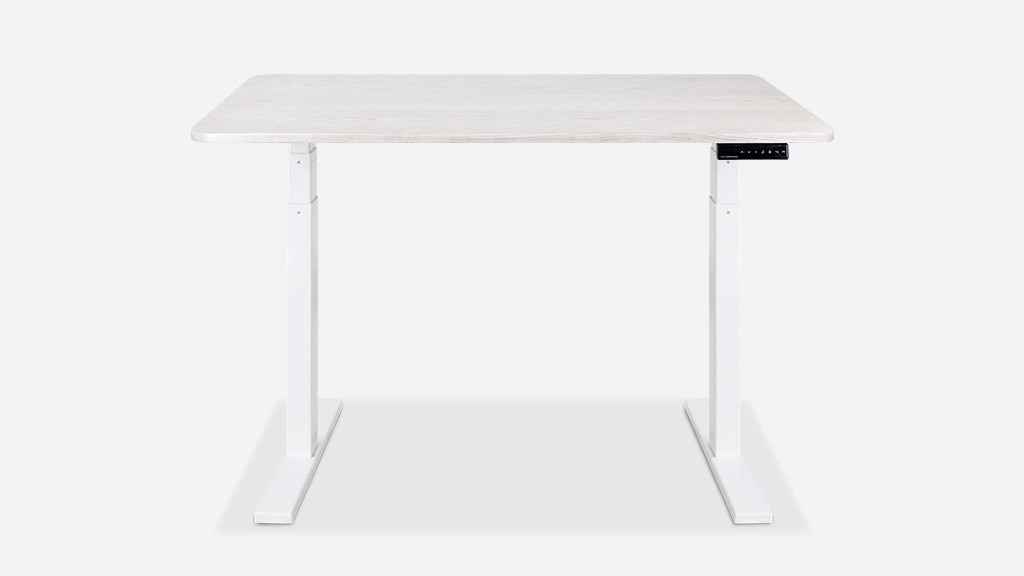 A big component of an adjustable desk is manually having to adjust things. The Smart Desk 2 and 3 don't force you to do that, and in fact, a simple push of a button takes you from sitting to standing within seconds. If there are a couple heights you enjoy, program them in and don't worry about dealing with levers or handles. There are a number of ways to look at a transition to standing desks, especially considering that you'll feeling benefits from day one. The best way to look at it is this: would you rather do more work than you have to, or have your desk do the work for you? You be the judge, but know that these 5 options are all available to take you off your seat and onto your feet.