What's the difference between a cheap office chair and an expensive one? You can feel a difference, but you might not know exactly what it is that determines if a chair is worth the price tag or overrated for its cost. When it comes down to it, your chair is where you are going to spend a lot of your working day. When you go home to rest after your 9-5, it's likely that you are also going to be sitting, and if your office chair is giving you problems, it will be hard to stay comfy at home with possible back and neck pain you've experienced for quite a bit of your day.
14,000 hours. If you have a full-time desk job, that's the minimum amount of time you'll spend sitting over the next 10 years. Add the nights you have to work late, the weekends you're called into the office, and those unexpected occasions you end up scarfing down lunch in front of your computer and the hour count only goes up from there. We now know that any sustained time spent seated can be detrimental to your health, but a bad chair only adds to the problem by putting you in positions that add to long-term risk. If you have a home office, finding a chair that makes your desk time more comfortable and better for your health is a worthwhile endeavor. Luckily, there is a way to find an amazing chair for a fair price.
What to Look for in an Office Chair
There's a number of things every great office chair should have. These are the criteria for a good chair, and there's no compromising these components of an office chair if you're looking for a quality piece of office furniture.
Adjustability: Almost all office chairs have a height and arm adjustment; however, these are not the most important adjustments to look for when shopping for an office chair. The best office chairs have a number of adjustments to accommodate whatever position you may need.
Lumbar Support: A good office chair will have support for the lower back. Some of the better ones will even have an adjustable lumbar support that allows the user to fit the chair to their lower back. This is important in preventing back strain that can worsen and become sciatica, a condition which can be debilitating. Important features that should be adjustable include lumbar support, arm width and height, seat back width and height, seat and back angle, and tension control. Many of the supports are dial controlled while a few are controlled with a hand-held bulb pump, similar to a blood pressure cuff pump.
Wheelbase: Nearly all office chairs have a wheel base; however, if the office is carpeted it may be necessary to get a chair with wheels specifically made for carpet. Rolling is important in preventing strain due to reaching across a desk to retrieve items that are out of reach.
Swivel Base: All office chairs should swivel freely to allow for easy access to various parts of the desk. If the chair doesn't swivel freely, arm fatigue can result from over extending to reach various items.
Fabric: The fabric should be breathable to keep the chair from becoming hot and uncomfortable after hours of sitting in it. In addition, it should have enough cushion to support the person sitting in it without feeling the base of the chair through the cushion.
The "Feel" of you New Chair
Sometimes, a new chair can look great, and have all the parts that make it worth while on paper, but it doesn't quite feel right. Every chair for this price should be able to do these things:
The backrest should be adjustable and follow the shape of the spine. It should also support the curve in the lower back.

Feet should rest flat on the floor comfortably. If not, adjust the chair height or add a footrest.

Arm rests should be close the body and allow the shoulder to relax.

Arm height should be adjustable and match the height of the desk. This will prevent strain to the shoulders.

In a sitting position looking forward, the center of the computer screen is what should be seen.

The back of the chair should come to the middle of the shoulder blades in order to provide adequate support, above the shoulders is even better.
For all of these points of emphasis on the feeling of the chair, as well as what you should be looking for in a chair, there's one option under $200 that embodies all of this and more.
The AvoChair from Autonomous
All at once, the Autonomous AvoChair looks and feels good, and well past its price point. Its design is meant to look sleek, and offer an ergonomic manner in which to make your extended office days comfortable and non-detrimental to your body. Every element of the AvoChair is designed around maximum support for every body part. The elastomeric mesh back feels weightless, yet provides you every inch of support you need for the work day. All the while, the gentle roll off front and arm pads helps to make sure that no matter your posture, the AvoChair is supporting you and making you feel in control of your body.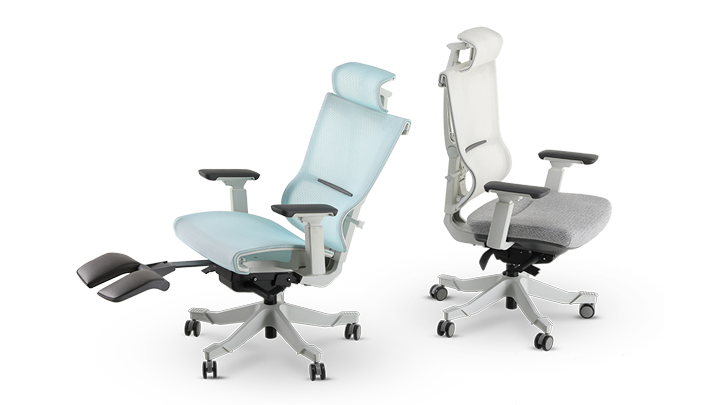 Its futuristic egg design is met with incredible standards for environmental consciousness. The AvoChair is manufactured from recycled materials where possible, and can be easily broken down into its component parts, nearly all of which are 100% recyclable. There isn't an inch of the AvoChair that is wasted material, and the incredible design looks as good as it is green for the environment. Mindfulness is key to a productive work day, and your chair should be as aware of its impact on the world as you are.
All under $200, the AvoChair from Autonomous meets every single criteria on the great chair checklist, and feels as if you have been looking for this chair your whole life. There's a right way to sit at work, and it's in comfort and ergonomic control of your work day.