Office furniture is an important aspect of every office, workplace, and institution. It includes tables, chairs, cabinets, desks, and stools. The office furniture reflects the values of a workplace. Hence, it is important to choose the best furniture that fits your visions, budget, and requirement.
In the previous articles, we have covered several comparisons on the different office desk chairs. These comparisons were based on the ability of office chairs to provide you with comfort, utility, and style quotient to enhance your workplace. However, in today's article, we have only covered the chairs which are under the price tag of $100. This article is ideally for the people who are looking for a cost-effective solution and want a product that suits all their requirements.
It is important to understand that purchasing power and financial condition of every business organization is different. Hence, office furniture must be purchased by keeping in view the total expenditure and costs.
Limited Options
By restricting the budget to $100, it is difficult to select a piece of furniture that provides best-in-class features, durability, and reliability. Most of the best performing products are outside of this budget that really narrows down the total options.
As a result, we have limited our considerations to two main chairs that provide you with a number of benefits, and have a price tag of less than $100. These chairs are Furmax Mid Back Lumbar, and ErgoStool by Autonomous.
Our Considerations
Importantly, the considerations of this article are not limited to the $100 price tag only. There are additional features in an office chair that makes it a useful, stylish, and durable piece of furniture. Ideally, it is important to understand if a particular piece of furniture blends in with the workspace environment of your office. Additionally, you must consider if the piece of furniture you're going to buy is going to add any value to your office, business, or yourself.
An effective office chair is able to provide you comfort and leisure, and the ability to work for long hours without tiring you endlessly. Such an important benefit of the chair can contribute to increasing the performance and productivity of every business organization.
Besides, it is difficult to select a piece of furniture that is optimum in relation to every consideration. With the advent of modern manufacturing and design techniques, office chair production has become an important domain. Technology has upgraded the methodologies that are part of the entire chair construction process. With this updated technology coming into play, the products are rich in features, style, ergonomics, and aesthetic appeal. Therefore, it is important to scrutinize the right product that meets all our distinct requirements.
Our Criteria
We understand the fact that every office desk chair is not just a simple piece of furniture but an equipment to provide you lasting comfort while working. Moreover, with the changing business requirements, every company demands rich features and functionality within the limited budget.
Our selection criteria considered the $100 price tag, features, and styling of the chair. However, as per industrial standards, it is important to maintain a healthy working environment for the employees. Importantly, for remaining healthy at work it is essential that the workplace has a comfortable seating arrangement for the workers.
Technically, office chairs that provide posture adjustment, lumbar support, and height adjustment features are considered ideal. Out of late, it has been proven in research that incorrect posture and seating positioning of an individual can cause serious health effects such as cervical pain problem, disc relocation, and spine problem. Therefore, our selection of Furmax Mid Back Lumbar and Autonomous Ergostool for comparison is in accordance with this requirement.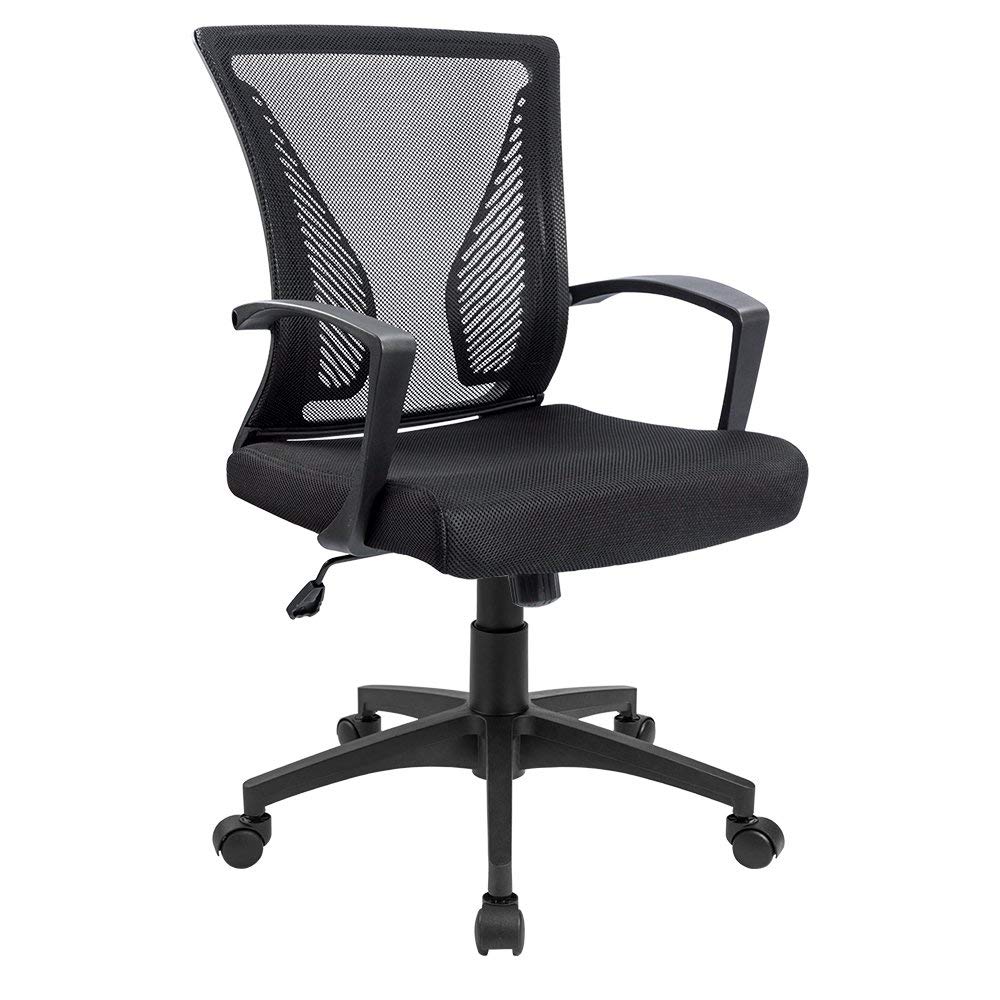 Furmax Mid Back Lumbar
The Furmax Mid Back Office Chair is a great option if you are on a limited budget. It is a no-frills office chair, which is durable, packed with rich features, and has an ergonomic design. It is a type of chair that you can buy in large numbers for your office or workplace.
Assembly and Packaging: The assembly process of the Furmax Mid Back Lumbar Office Chair is straightforward and easy. Although, the packaging could have been better. It looks as if the company has saved a lot of money from cost-cutting in the packaging of this product. It would be no surprise if the product is damaged during the delivery process.
Further, the instruction booklet provided by the company lacks the well-detailed instructions related to the assembly of the chair. The booklet has a very limited number of images, which are not enough for a convenient and hassle-free assembly.
Overall, the assembly time is around 25 minutes. The package has no additional equipment or tools to help you to assemble your chair. Hence, you may need to arrange a screwdriver and hex-bit drill by yourself.
Design and Ergonomics: The chair has a unique and contemporary theme, which looks elegant and crisp to the eyes. The chair has an all-mesh design on the frame which provides it a stylish outlook. Further, it has twin lumbar design at the back which adds support to the frame and looks extremely elegant.
Ergonomically, the chair is an excellent piece of furniture. It is available in four different colors so that you can choose from various options which color suits your workplace. It is installed with a breathable mesh backrest and two different wedge-shaped lumbar pieces that look well and provide you a comforting back support.
Features: Feature-wise, the Furmax Mid Back Lumbar Office Chair is good. It offers an ergonomic design which looks great and easily matches any office interior. There are a number of important features that make this chair a valuable product. Some of them are:
Excellent durability, with solid lumbar support to provide you a care-free seating for many years. The lumbar support maintains your correct posture and keeps you healthy.

Four different color options.

The chair is BIMA certified, which ensures its ruggedness, quality, and sustainability.

30-day money back guarantee if you're not satisfied with the product.

6 months damage and part failure replacement warranty.

360-degree swivel to rotate the chair as much as you can.

High-end nylon base, and smooth-rolling casters to add to the stability and mobility of the chair.
Pros: The biggest advantages of purchasing the Furmax Mid Back Lumbar Office Chair are:
Large enough to accommodate big users.

The affordable price tag (below $100).

Highly durable and sturdy.

Great for people suffering from chronic back pain.

Height-adjustable functionality.

Four different coloring options that let you choose the one which matches your office decorum.
Cons: There are some drawbacks of the Furmax Mid Back Lumbar Office Chair that are enlisted below:
No headrest or any provision to adjust neck and head backward.

Weight limit of 265 lbs only.

The Chair is height-adjustable, however, there are no adjustable armrests that makes you stuck with default height and bend angles.
ErgoStool by Autonomous
The ErgoStool by Autonomous is considered as the most ergonomic office furniture under $100. It is affordable and only costs $89. The ErgoStool is a unique height adjustable piece of furniture that can be equally used as a regular desk. It is a product that you can give yourself to make easy and convenient breaks from standing for long hours.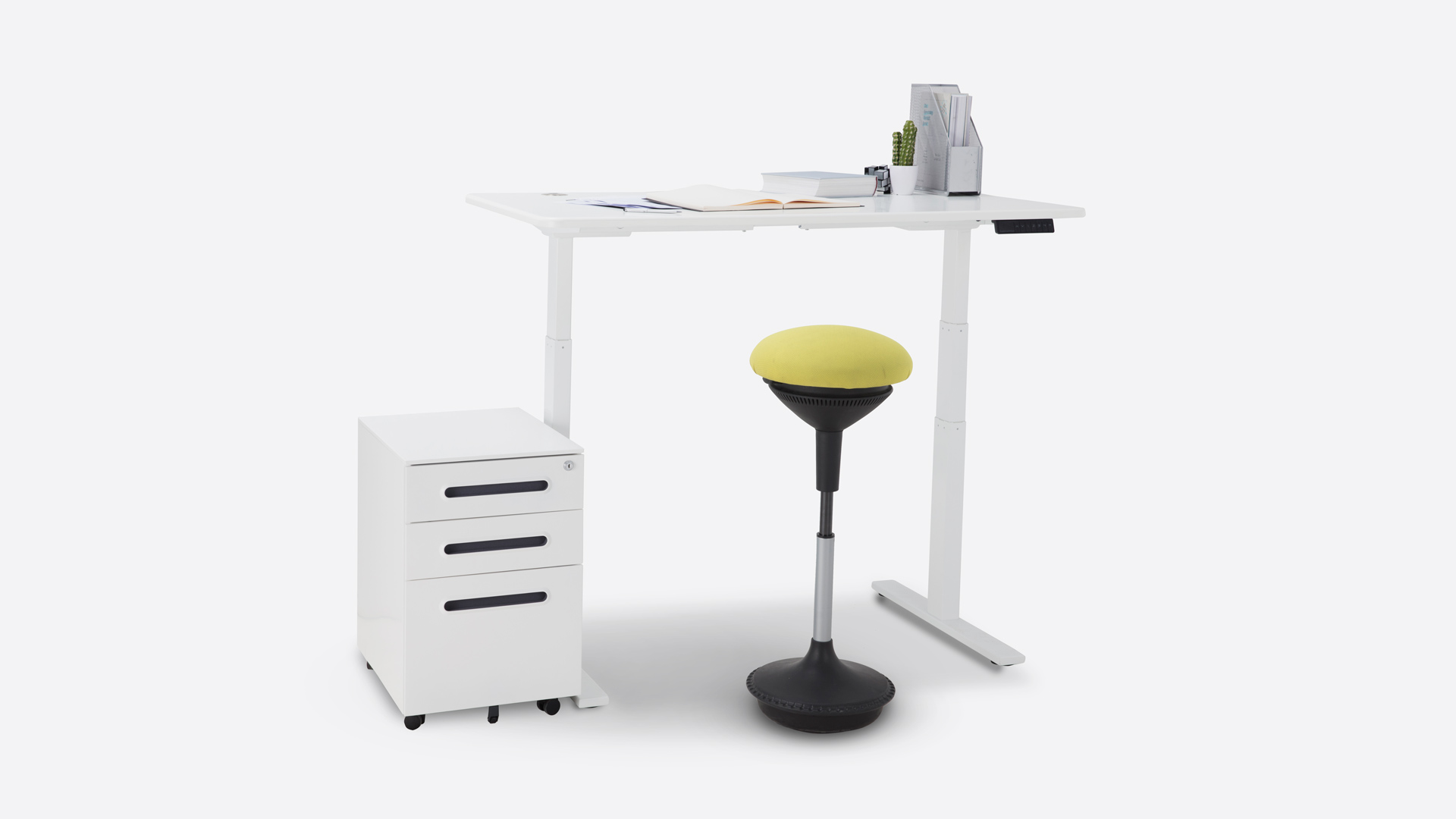 Packaging and Assembly: The product comes in a very sturdy packaging. The company has ensured that the product may receive no damage while shipping. It is evident from the fact that the product was carefully packed and sealed with the use of high-quality cardboard boxes.
Coming to the assembly, the product is relatively easy to assemble because of its basic structure. It is a stool which can be easily assembled within 15-20 minutes. The company has provided all the tools and equipment required to assemble it without any additional requirement. Further, the instruction booklet supplied with the product is very well-detailed, supported by clear pictures to ensure easy assembly.
Design and Ergonomics: Design-wise, you can consider the ErgoStool as one of the best-looking office furniture items. It is elegantly crafted and looks visually spectacular. Ergonomically, it is a well-engineered product that perfectly matches every office decorum. Besides offices and workplaces, the ErgoStool looks incredibly well in any living room, bedroom, bar and restaurants, and public institutions. It is also an ideal item if you want to use it as a regular desk that increases its bandwidth to be used for multiple purposes.
Features: As incredible is its design, the rich-features of the ErgoStool add to the number of benefits provided by it.
Dynamic Sitting that emulates frequent posture changes. This enables you to tone up muscles and remain in good shape.

Adequate traction on different surfaces to proliferate motion.

Added cushioning on the top as well as on the sides to provide you with a comfortable seating experience.

1-year warranty to cover any fault in the product. However, physical damage to the product are not covered under the warranty.  

All-black styling and coloring that adds elegance to your workplace.
Pros: The ErgoStool by Autonomous is one unique piece of furniture which is loaded with benefits. Some of its unique advantages over its competition are:
Under $100 price tag which makes it affordable, and within the reach of many customers.

Ability to be used as an under the desk stool.

Provides low-impact break from standing due to its unique and compact design.

Height adjustment range of up to 10 inches.

Maintains straight posture which maintains healthy blood circulation. The comfortable and straight posture helps you to relieve yourself of back pain as well.

ErgoStool is advantageous in comparison to any regular office chair as it is a backless stool that builds your back strength and prevents any degenerative disc problems.
Cons: There are some areas of improvement in the ErgoStool as well. These are:
Being a backless piece of furniture, there is no provision for back support as the person has to sit in the same position only.

The product is only available in the black color. However, the black styling is elegant but it can be a deciding factor for the people who seek different color options in office furniture.
Conclusion
In this article, Furmax Mid Back Lumbar, and Autonomous ErgoStool are compared. Both the products are effective and efficient pieces of office furniture. The Furmax Mid Back Lumbar is a typical office chair that has a modern design. It is loaded with a number of features that makes it an ideal choice. Moreover, it is available under the price tag of $100 that allows you to purchase multiple numbers of it in an instance.
The second product is the Autonomous ErgoStool, which is a typical backless office stool. It is highly ergonomic in construction and provides a very premium feel. It provides a number of health benefits to the individual. It is also available under the $100 price tag that makes it highly affordable.
In a head-to-head comparison, both the products have their advantages. The Furmax Mid Back Lumbar Chair offers a number of features of a high-end office chair. Similarly, the ErgoStool is also a premium office furniture available at a much lower price.
With the comparison of both the products, the ErgoStool scores more than the Furmax Mid Back Lumbar Chair in two important criteria: weight limit, and a number of adjustments. The Furmax Mid Back Lumbar Chair has a below-average weight limit of only 265 lbs., which makes it inconvenient for people weighing heavier than this limit. Similarly, the Furmax Mid Back Lumbar Chair has an all-mesh frame that supports height adjustment but has no feature to adjust the neck, arms, and bend angles, which makes it slightly uncomforting to sit on for long hours. Importantly, the ErgoStool doesn't offer any back support at all. Although, its posture and positioning make up for the lack of any back support.  
Related post: The Best Office Chair Under $100 is Actually an Ergonomic Stool